The Forgotten Colours, in meeting with Espen Gleditsch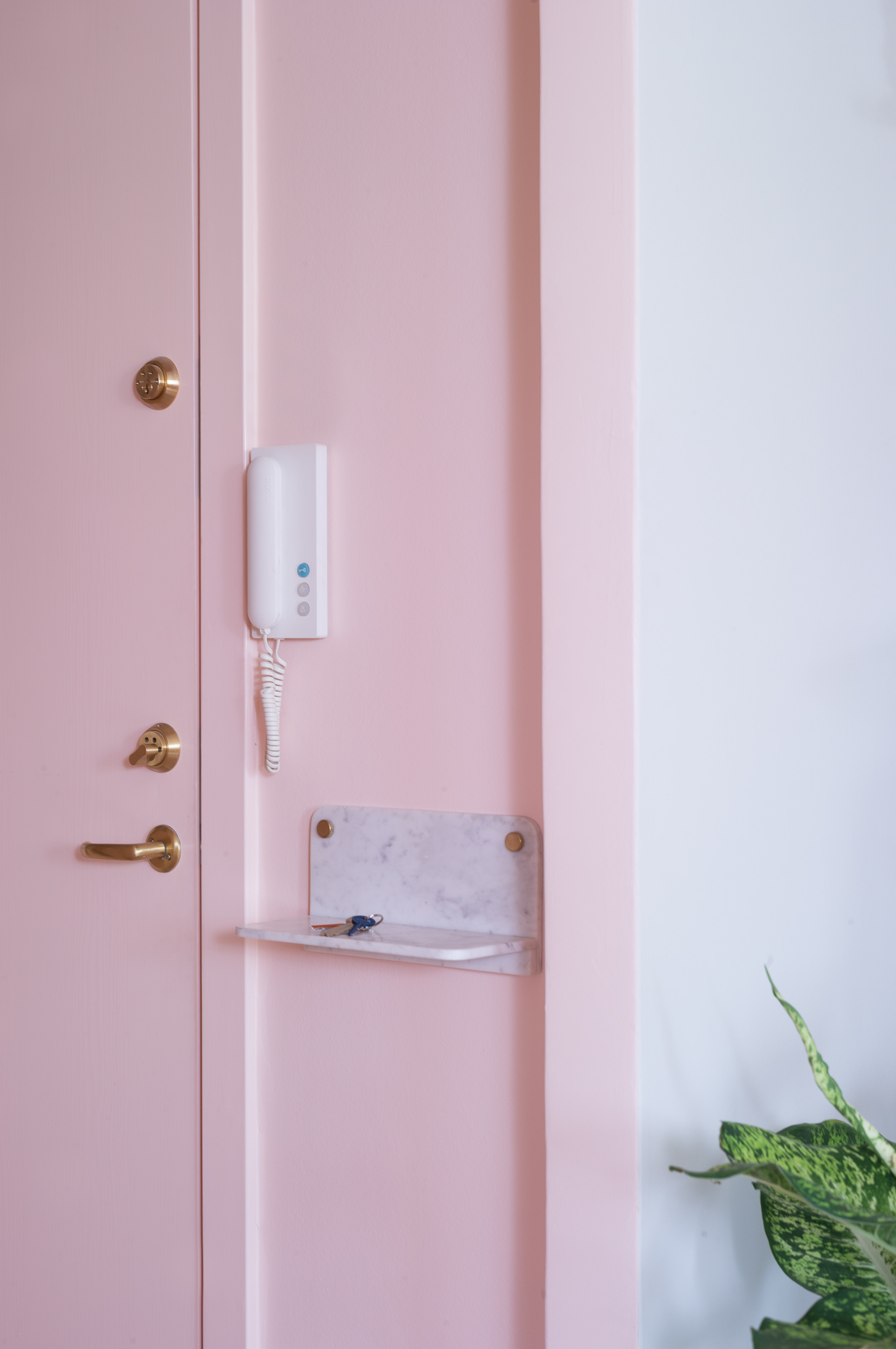 When the Norwegian photographic artist Espen Gleditsch took over the deed for his and Lisa Steine Nesse's apartment in Westye Egebergs gate in Oslo, he already found himself knee-deep in a project detailing how the use of black and white photography in the 1920's to document modernist houses, led to the popular misconception that all functionalist housing was white. .
As Espen found himself increasingly fascinated by this blindspot, his eyes were opened to the use of bold colours in modernist architecture. In light of this, it was obvious to him that his own new home was never going to be a simple white cube. Several of the colours used in the apartment have their origins in the influential Weissenhofsiedlung architetcture exhibition in Stuttgart, in 1927. Working closely with a painting conservator, who in the eighties had documented the original colours from these famed buildings, Espen took great pleasure in sourcing their 'forgotten' colours in order to paint his own bare walls with them.
-We embraced a rather liberated approach to the colour palette, which is characterized by 15 different lustrous and dusty colours spread over 65 square meters. When I was a student at the Oslo Academy of Fine Arts, I had Dag Erik Elgin as a professor, and although I do not work with painting in the traditional sense, I learned a number of painting techniques from him that we used when decorating the apartment. It was a time consuming job, but we are just really pleased with the result!
Together, the four eight-story buildings at Egebergløkka designed by architect Victor Schaulund in the 1930s,- form an octagonal outdoor space. Schaulund was at the time the same age as I am now, in his mid thirties. He had worked for some of the country's most prominent architects such as Blakstad and Munthe-Kaas who designed KUNSTNERNES HUS, and Arnstein Arneberg, most famous for Oslo City Hall. The first part of the 1930s must have been a very special time to establish oneself as an architect in Norway. While modernism had spread over the continent for many years, it was not really until the end of the 20´ies that this revolutionary approach to architecture took root here, largely by virtue of Lars Backer's design of Skansen restaurant at Kontraskjæret, which unfortunately, was demolished in 1970, with the blessing of the relevant authorities..
The building we live in is representative of the dawn of modernism in Norwegian urban housing, and defines a decade in which functionalism began a kind of reverse class journey. From initially being a style reserved for the intellectual elite, this way of thinking urban housing became representative for what we today would regard as 'typical' social democratic architecture.
As I have by now developed several art projects centered on the modernism of the early 20th century, I find these four buildings by Schaulund representative of an upheaval I find interesting. Added to this, the building has a whole range of inherent qualities that makes it an especially good place to live. Because the buildings are tall, and situated on a hill, functionalism's promise of light and air do not disappoint. There are green lungs on both sides of our building, and even though we are located basically in the middle of the city, the noise from traffic is negligible. Two flights up we have access to a large communal roof terrace overlooking the city in every direction, which needless to say is absolutely fabulous.
When we took over the apartment about three and a half years ago, we had already lived in the same high-rise for three years, renting an adjacent apartment from a friend. We were so pleased with the set up but wanted a more permanent living situation, so when this came up for sale, we went for it!
The apartment, was still true to Schaulund's original floor plan, and had, among other things, a small built-in kitchen. Access to the master bedroom was through another bedroom. I'm sure this was quite common in the 30's, but we wanted a larger living room, and to avoid the walkthrough. So, we hired architect Tron Meyer to help us with the structural plan, which became quite an extensive affair. We tore down several walls and doors in order to get a better flow between the rooms, we moved radiators and doorways and built new walls all together. Basically we reframed the apartment.
Pulling down reinforced concrete walls is a terribly messy process, so we knew right from the start that we would eventually have to redecorate all the wall and floor surfaces. For all intents and purposes, we ended up tearing down and rebuilding most of the apartment. During this renovation, we did whatever we were able to ourselves, but of course, when it came to the most skilled work, we hired professionals. This was all done during a few hot summer months, we would be in here working from the time we woke up until we rolled into bed at night, seven days a week.
During this process, we constantly tried to preserve any original qualities and the unique character of the apartment, at the same time we were conscious of not wanting to live in a functionalist museum. Now that we have lived here for a few years, it is reassuring to see that we are still pleased with the choices we made. The time since we took over the apartment until we started the renovation was short and there was a constant array of decisions that had to be made immediately. We were blessed with the involvement of architect Tron Meyer, an architect with artistic sensibility.
He designed our solid wood kitchen, and then designed a wall that gave light to an area that otherwise would have been a mere dark passage. We have tried to choose durable materials that will age well and that will develop an appealing patina over time. We have emphasized this in the choice of furniture as well. Since this is a rather compact apartment, we have always been careful not to fill it up with too much furniture, like, we have some neat and elegant stacking chairs from the Norwegian duo Gridy. These we keep shuffling around, putting them to use in various ways, as small tables or desks, as something to stand on in order to reach the top of a cupboard as well as that for which they were intended, namely seating. We also have a custom made sofa by the dining table, which can be pulled out and turned into a guest bed or a place to spend a horizontal Sunday afternoon accompanied by the birds' song from Vår Frelsers Cemetery right outside the window. The kitchen is really something. We are so grateful for having it as a kind of friend in the apartment. I for one do not know how I ever managed to live without a stainless steel bench around the sink and stove earlier ...
WORDS: Espen Gleditsch & Elisabeth Aarhus, PHOTOS: The Chromarty